Article #5301 / #5328 Faceted Bicones - Swarovski Austrian Crystal. We have Swarovski #5301 / #5328 Faceted Bicones in 5 different sizes: 3mm, 4mm, 5mm, 6mm and 8mm. Multiple colors and coating available depending on the size.
Why does this item have two different article numbers? See Below *
Please Note: All sizes are in millimeters. Images are not actual size. Please refer to a caliper for a better idea of actual size. Click on the images below for more detail.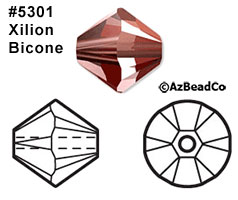 Regarding the #5328 Faceted Bicone:
* Swarovski Elements introduces the new 5328 Xilion bicone bead, which will be replacing the discontinued 5301 bicone bead. The 5301 and 5328 bicone beads are designed to be used interchangeably, as their dimensions and geometry are complementary.
Please Note that we currently have the #5301 bicones in our stock and are not carrying the #5328 bicones at this time. Please contact us if you are interested in the #5328 bicone.
About the #5328 bicone:
Resembling the flash of a diamond, the revolutionary 5328 Xilion bicone bead offers:
- Unique Xilion brilliance
- Increased number of facets
- Alternating large and small facets
- Higher brilliance and intense light reflection
- Slightly rounder girdle for added comfort in wearability

In addition, this cut is differentiated from all other products on the market and is copyright protected. You will benefit from the unique Xilion brilliance, leading to clearer differentiation between your products and designs and those of your competitors.