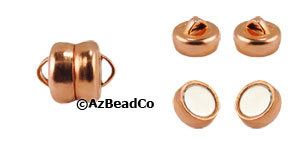 6mm Mag-Lok Magnetic Clasps just may be the world's easiest clasp to use. Never fumble with a clasp again! Mag-Lok Clasps are made with very strong magnets that self-align and lock together. These High Quality clasps are Made in the USA, and assembled without using glue. Sold as individual clasps or in packages of 12, these clasps are 6mm in size and are available in the following colors: Silver Plated, Sterling Silver, Gold Plated, 14kt. Gold Filled and Copper.
6mm Mag-Lok Magnetic Clasps work well for bracelets with light to medium weight beads, and necklaces with light beads. For stronger clasps, please see our 8mm Mag-Lok Clasps.
Please Note: All sizes are in millimeters. Images are not actual size. Please refer to a caliper for a better idea of actual size. Choose from the products below.
Warning: Do not use if you have a pacemaker. Pregnant women should consult their doctor before wearing any magnetic items.