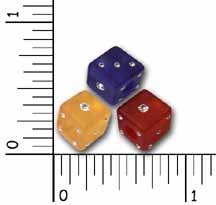 Frosted Glass Dice with Rhinestones
Sold by the Piece and available in many cool colors. Rhinestones make the "dots" on each side of these Frosted Glass Dice.
Please Note: Images are not actual size. Please refer to the photo with the ruler for a better idea of actual size.
Click on the images below for a larger image and more detail.