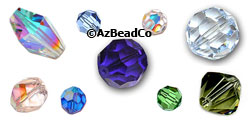 SwarovskiŽ Austrian Crystal Beads
are unmatched for their beauty and quality. The demand for
Austrian Crystal
products is at an all time high around the globe and if you've ever seen an
Austrian Crystal Bead
up close, you'll know why. Learn more about the history of
Swarovski Austrian Crystal.
Please Note: All sizes are in millimeters. Images are not actual size. Please refer to a caliper for a better idea of actual size. Click on the images below for more detail.
Warning: Do not use if you have a pacemaker. Pregnant women should consult their doctor before wearing any magnetic items.