Swarovski Austrian Crystal Beads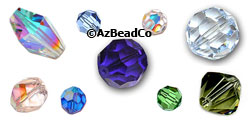 Arizona Bead Company has Swarovski Crystal Beads from Austria, in multiple shapes (also known as "articles"), sizes and colors. We have Faceted Cubes, Faceted Rounds, Faceted Rondels, Faceted Bicones, Diagonal Cubes, Baroque, Cosmo Jet, Helix and more.
Visit our Home Page to see our Austrian Crystal Beads, Magnetic Beads and Magnetic Clasps.
---
I love Swarovski Austrian Crystal Beads. There is something magical about the sparkle and shine of Austrian Crystal that sets it apart from other types of faceted beads. So, what exactly is Austrian Crystal, and what gives it the spectral brilliance that we have come to know and love?
First and foremost, the crystal that is used to make faceted beads in Austria and other parts of Europe and Asia is man made. Also referred to as leaded glass, crystal was invented by an English glassmaker named George Ravenscroft in the late 1600's. While glass is a mixture of silica, an alkali such as soda or potash, and lime, Ravenscroft added a larger amount of lead oxide instead of potash to the mix. This mixture increased the density of the glass, which increased it's refractive properties, and created a material that can better withstand cutting and engraving.
Although there are no official American standards regarding crystal, much of the World follows the offiical British Standard (BS 3828:1973) that states:

Fine Crystal must contain 6% to 10% lead oxide
Lead Crystal must contain 10% to 24% lead oxide
Full Lead Crystal must contain 24% or more lead oxide.
It is also important to note that chemicals, rather than dyes are used to create the different colors of crystal. It is actually more difficult to produce clear crystal, as it must be free of impurities in order to be sure that a perfectly clear crystal is the end result.
In order to achieve the most sparkle and shine, the cutting and polishing techniques are extremely important. While many crystal products used to be painstakingly cut by hand, most crystal is now cut using state of the art, high precision machines, very similar to the process in which diamonds are cut.
There is one type of glass bead that is often confused with crystal beads. Czech faceted fire polish beads are NOT made from crystal. They are made by pressing glass in a mold to make the bead, roughly faceting it by hand or machine, then slightly melting the surface of a bead to "fire polish" it by putting it back into a heat source to give it a better luster. This process will slightly round off the facets, which makes it easily identifiable as a glass bead.
The History of Swarovski Austrian Crystal
While there are a few companies in the world manufacturing crystal beads, the leader in the industry is Swarovski. Daniel Swarovski, a young man from Bohemia, invented and patented a crystal cutting machine in 1892. In 1895, he moved his family and his factory from Bohemia to the town of Wattens, high in the Alps of Austria. Here, he had the water he needed to run his machines, and he was far away from the competition. In 1913, With his three sons, Wilhelm, Friedrich and Alfred, Daniel Swarovski built a plant for the production of crystal, in order to provide raw material of the highest quality.
Swarovski continues to demand the very highest quality of their products. This is what distinguishes them from the rest of the market. They are incredibly secretive about their processes, even their workers in the factories do not see what other workers are doing so that they do not share any secrets with others! Their cutting and polishing techniques are superior, and they will continue to dominate the Crystal Bead market with their stunning colors and unique shapes.
Resources:
http://www.encyclopedia.com
http://www.bsonline.techindex.co.uk
http://www.swarovski.com

For More Information on the History of Beads, Visit:
www.thebeadsite.com