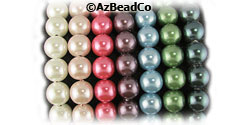 Pearl Magnetic Hematite Beads (aka Pearlized) are sold by the strand. Our Pearl Magnetic Hematite Beads are similar to our Magnetic Hematite in that they are magnetic, however they have a Pearl or Pearlized finish. Available in multiple colors, shapes and sizes. Purchase multiple strands of Pearl Magnetic Hematite to receive a discount. You may mix and match strands in any size, style or color. Your shopping cart will calculate this automatically.
Please Note: All sizes are in millimeters. Images are not actual size. Please refer to a caliper for a better idea of actual size.
Choose from the products shown below.
Warning: Do not use if you have a pacemaker. Pregnant women should consult their doctor before wearing any magnetic items.