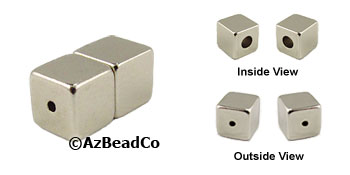 Tired of fumbling with regular clasps? Then try our 6x6mm Magnetic Cube Clasps. They are easy to use and very strong. Cube clasps come in Silver, Gold, Black and Hematite colors, and they work great with our Magnetic Hematite Beads.
6x6 Magnetic Cube Clasps work well for bracelets with light to medium weight beads, and necklaces with light beads. For stronger clasps, please see our 8mm Mag-Lok Clasps.
Please Note: All sizes are in millimeters. Images are not actual size. Please refer to a caliper for a better idea of actual size. Click on the products below for more detail.
Warning: Do not use if you have a pacemaker. Pregnant women should consult their doctor before wearing any magnetic items.