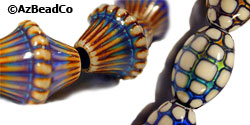 Mood Beads are these amazing thermo-sensitive liquid crystal beads that change color while you wear them. Slight variations in body temperature activates the change of color.
Like life itself, Mood Beads are always mysterious and changing. We carry a large selection of Mood Beads. See below for the available styles we have.
Please Note: All sizes are in millimeters. Images are not actual size. Please refer to a caliper for a better idea of actual size. Click on the images below for more detail.