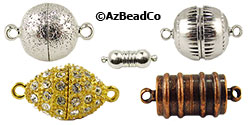 Any magnetic clasps that don't belong to another category are here on our Miscellaneous Magnetic Clasps page. We have Rhinestone Clasps, Cubic Zirconia Clasps, Stardust Clasps, Barrel Clasps, Etched Round Silver Clasps, Bulb Clasps and Barrel Clasps. Browse the products below to see if any of our Misc Clasps will work for your next jewelry project.
Please Note: All sizes are in millimeters. Images are not actual size. Please refer to a caliper for a better idea of actual size. Choose from the products shown below.
Warning: Do not use if you have a pacemaker. Pregnant women should consult their doctor before wearing any magnetic items.