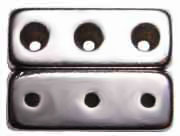 Our 3-Hole Magnetic Clasps are 6x16 millimeters in size and they have a very strong magnetic pull. Our 3-Hole Clasps are available in Silver, Black, Hematite and Gold colors. Each Magnetic Clasp has 3 (1mm) holes on one side for the stringing material and 3 (2.5mm) large holes on the other side for a knot or crimp bead depending on your finishing preference.
Please Note: All sizes are in millimeters. Images are not actual size. Please refer to a caliper for a better idea of actual size. Click on the images below for more detail.
Warning: Do not use if you have a pacemaker. Pregnant women should consult their doctor before wearing any magnetic items.