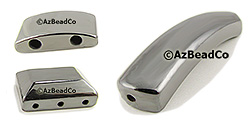 Magnetic Hematite Spacers. We carry 2-Hole, 3-Hole and 4-Hole Magnetic Spacers. Our Magnetic Hematite Spacers are sold in Packages of 12. You will receive a discount when purchasing 10 or more packages. You can mix and match different styles and your shopping cart will calculate the discounts automatically.
Magnetic Hematite Bars are 9x37 mm in size and sold in Packages of 5. Buy 10 or more packages to receive a discount.
Please Note: All sizes are in millimeters. Images are not actual size. Click on the images below for more detail.
Warning: Do not use if you have a pacemaker. Pregnant women should consult their doctor before wearing any magnetic items.