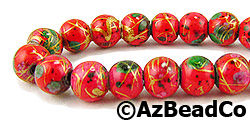 Sold by the Strand. Discounts apply to all Picasso Magnetic Hematite beads. You do not have to purchase multiples of the same style to receive the discount. You may mix and match strands in any style. Your shopping cart will calculate the discounts automatically.
Please Note: All sizes are in millimeters. Images are not actual size. Please refer to a caliper for a better idea of actual size. Click on the images below for more detail.
Warning: Do not use if you have a pacemaker. Pregnant women should consult their doctor before wearing any magnetic items.