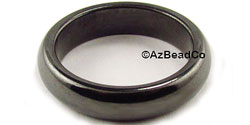 We carry Magnetic Hematite Rings here at the Arizona Bead Company.
Available in 2 styles. We have 6mm Smooth Magnetic Hematite Rings and Faceted Magnetic Hematite Rings.
Click below to choose your style.
Please Note: All sizes are in millimeters. Images are not actual size. Please refer to a caliper for a better idea of actual size.
Warning: Do not use if you have a pacemaker. Pregnant women should consult their doctor before wearing any magnetic items.