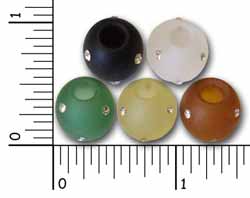 Frosted Glass Rounds with Rhinestones
Sold by the Piece and available in 11 different colors. Each Frosted Glass bead is 12mm in size and has 6 rhinestones.
Please Note: Images are not actual size. Please refer to the photo with the ruler for a better idea of actual size.
Click on the images below for a larger image and more detail.